As an ML Plan Admin you can add, update, and delete funding sources that apply to your organization's goals and projects. Each funding source has an amount associated with it, which is reduced as budget items are added. Examples of funding sources include Capital Project referendum amounts, Smart School Bond Act, and E-Rate.
To begin, select Admin Manage Funding Sources on the left-side navigation menu.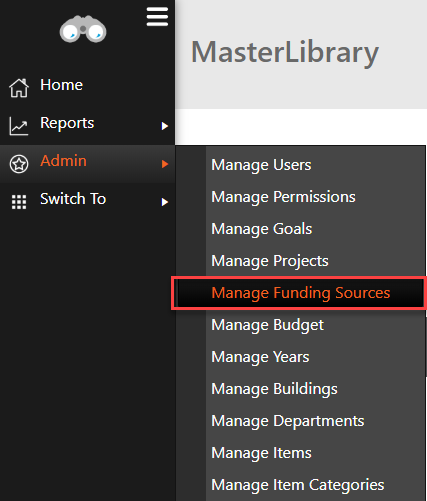 To Add a Funding Source:
1. Choose the add icon (

).

2. Enter the funding source name, the amount, and the description of the source.

3. Select Save.
To Edit a Funding Source
1. Choose the edit icon (

).
2. Update the necessary fields.
3. Select the save button.
To Delete a Funding Source
1. Choose the delete icon (

)
2. Your web browser will display a confirmation page. Click Yes.
Note: Funding sources can only be deleted if there are no associated budgets.